Norway briefed the Russian Northern Fleet on Cold Response
In a video call on 13 January, the Chief of the Norwegian Joint Headquarters informed the Commander of the Russian Northern Fleet on the upcoming winter exercise Cold Response 22 in Norway.
The video call was an initiative by the Norwegian Armed Forces and took place on Thursday 13 January. During the meeting, Lieutenant General Yngve Odlo, chief of the Norwegian Joint Headquarters, informed Admiral Aleksandr Moiseyev, Commander of the Russian Northern Fleet, on exercise Cold Response 22.
Cold Response 22 is set to take place in March in south-eastern, central and northern Norway. About 35,000 troops are expected to take part in the Norwegian exercise, including participants from NATO and partner nations. Cold Response 22 is the largest Norwegian-led military exercise since the 1980s, and the largest planned exercise within the framework of NATO during 2022. Cold Response is held in Norway every second year. This year, the exercise will focus on operations conducted by amphibious and air mobile forces.
The meeting with the Northern Fleet is a part of Norway's wish for an open and transparent dialogue about the practical conditions around the exercise, and to avoid any misunderstandings with Russia.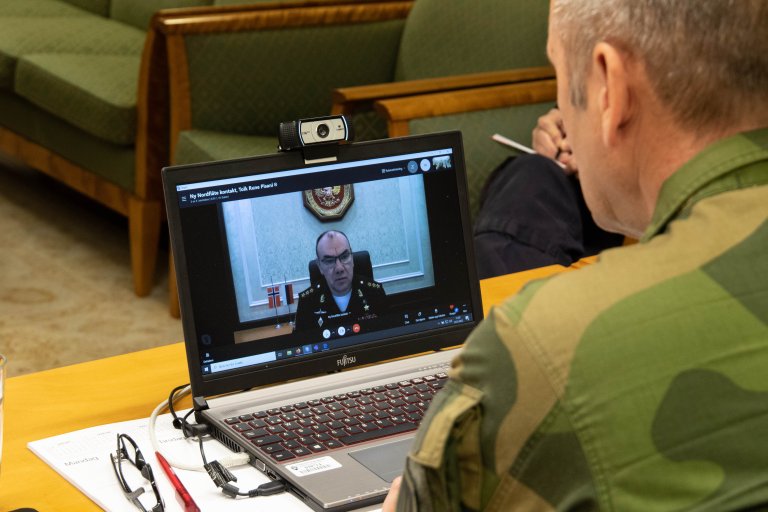 Lieutenant General Odlo underlined that Norway, in accordance with the Vienna Document of 2011, invites all members of the Organization for Security and Co-operation in Europe (OSCE) to observe the exercise, and that Russian observers are welcome as part of this.
Observers from any OSCE member country will be able to visit the participating forces in northern and southern Norway. This includes all brigades and many of their subdivisions.
Admiral Moiseyev expressed that he appreciated the information shared by the Norwegian Joint Headquarters. He was also positive about maintaining a good and open military dialogue between the neighbouring countries in the future.
The entire session was conducted in a polite and professional manner. Cold Response 22 was the only topic during the meeting.